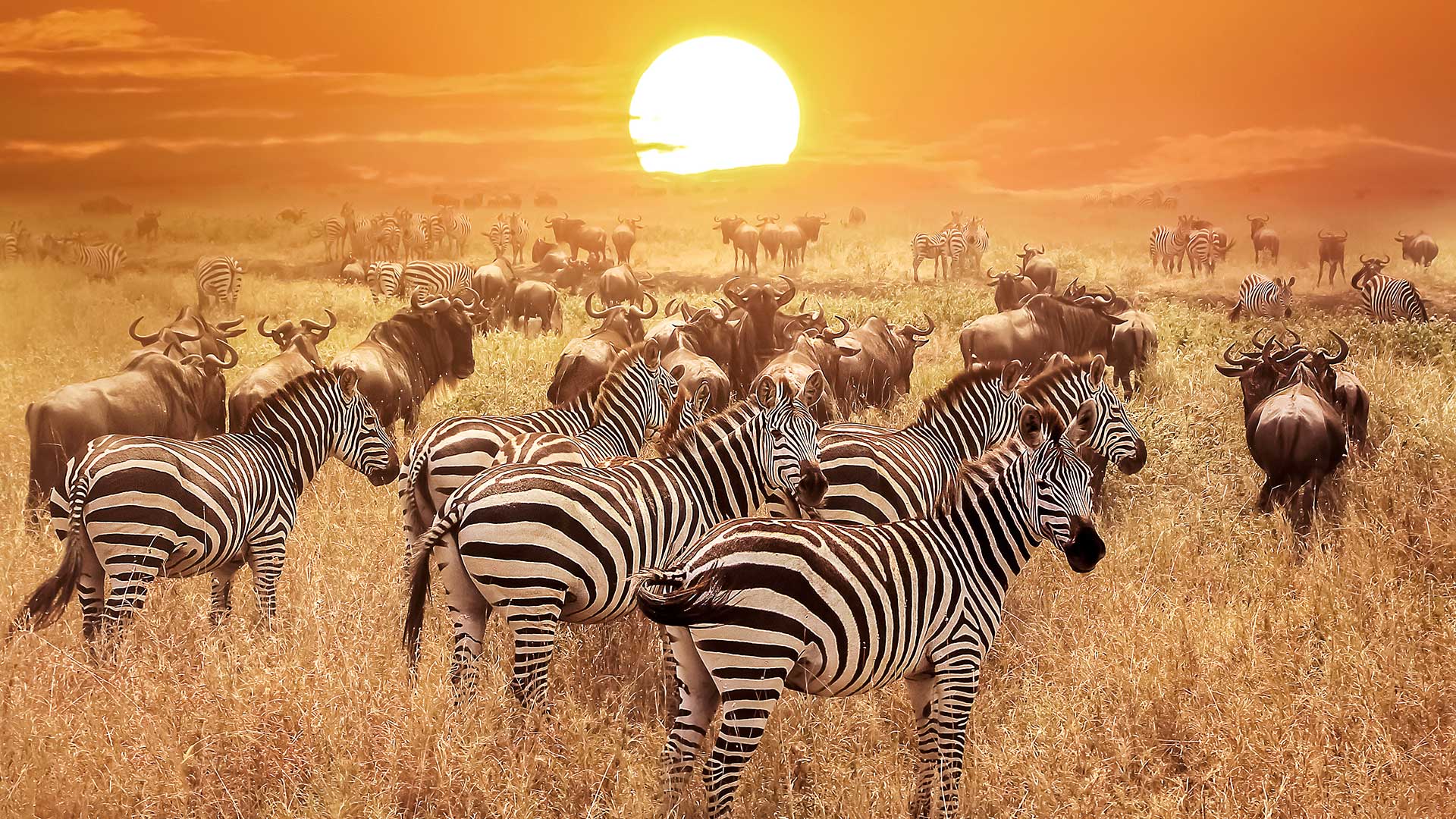 The Perfect Example of an African Safari
What is the best African Safari?
Tanzania safari holidays are the perfect example of the best African safari – combining Big 5 game viewing with epic landscapes, including the Serengeti and Mount Kilimanjaro, the largest free-standing mountain in the world.
You can choose between safari tours of the Northern Circuit, covering the Ngorongoro Crater and Tarangire and Lake Manyara National Parks, or the South and West Parks, including the expansive Selous Game Reserve.
Tanzania is also extremely popular for safari and beach holidays. Beach options are varied and include stunning Zanzibar, a short flight from both the north and south.
What is the best month to go on an African Safari?
The best time for an African safari is usually from July through October, when the animals are easy to seek out and in substantial numbers. Deciding when to travel on safari depends on what country you'd wish to visit and once you can plan your trip. Seasons differ in East and Southern Africa so you'll plan a superb safari for nearly monthly of the year if you're flexible about where you would like to go to. But choosing Tanzania would be the best choice you would have made in your entire life.
If you would like to ascertain the good Migration unfold, the Serengeti and Ngorongoro in Tanzania Northern circuit is then the  best time to witness the migration is February through March when the wildebeest and zebra have their young. Not only are you able to enjoy seeing baby animals, but the predators are at the very best number too. Because the herds also concentrate within the south of the Serengeti, it is easy to plan your wildlife viewing therein area.
June to November is Tanzania's season and is that the best time to go to all the parks. Tanzania's Southern Parks are perfect to go to during this point since the animals tend to congregate around permanent water and it is not so hot and humid.
All of Tanzania's parks suffer from the rains which generally fall from March to May within the North, and from November to May within the South and West. Roads get washed out and given the sheer size of Tanzania's parks, the animals tend to opened up , and this makes wildlife viewing less satisfying (if you are looking for sheer numbers of animals).
December through March can get quite hot and humid, especially in Western and Southern Tanzania which makes it a touch adventurous to spend tons of your time within the bush.
We can put together your perfect tailor-made Tanzania safari, whether you're looking for a luxury tour, a honeymoon safari, or a family holiday. Take a look at our sample itineraries for ideas.