UNCOVER TANZANIA ON A HORSEBACK
Tanzania presents the "Out of Africa" adventure most dream of when they visualise a horseback safari in Africa. Riding across some of Africa's most iconic landscapes and set to the backdrop of splendid snow-capped Mount Kilimanjaro, horse back riding here promises an memorable experience!
Become part of the herd as you gait on a horseback across the plains alongside zebra, giraffe and wildebeest, monitor for the big cats that this area is prominent for.
How is horseback riding in Tanzania?
Tanzania is the perfect destination for those searching for an undisputed African horseback adventure and caters for families, couples or the fearless solo traveller's. The vast open plains offer the perfect playground for experienced riders who enjoy fast-paced riding, inconceivable scenery and some of the most incredible wildlife encounters known to man. For those who have partners or families that do not ride, they can jump on an epic safari by vehicle, reunite for meals and catching up around the evening campfire.
Each adventure is led by qualified and professionally trained guides, offering instructive and breathtaking adventures. The routes are deserted, going deep into the wilderness to unearth the wonders that Africa has to offer on horseback. This is true, wild Africa, be sure to leave only your imprints and heart behind.
Trail riding, with the facilitation of a mobile camp set-up, and spending nights watching the sunsets, sitting round campfires and sleeping out in the wilderness will be an experience like no other. With astonishing varied riding terrain, you will pass through savannah grasslands, forest canopies and thick scrub – riding in Arusha National Park for part of your trip or travelling with the great wildebeest migration.
There is nothing like horseback riding, through the bush to feel like you are part of the eco system.
Horseback riding in Tanzania is one of the few pursuits that is not really that well catered for but it is certainly a growing interest.
Horseback riding, as many who have done it, will attest, is a superb way of getting close to the animals of the bush as, with the human scent masked and the noise of engines not present, wild animals are much more relaxed.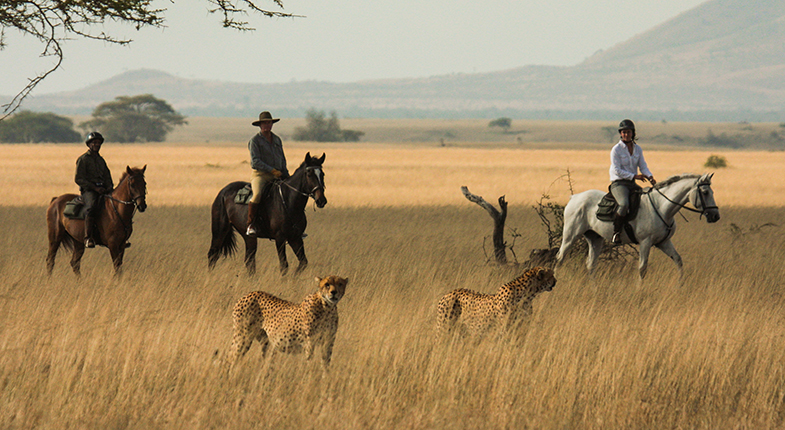 You will take on this contest with the help of a fit and responsive four-legged friend. This riding holiday in Tanzania is for skilful riders only as you will be riding in areas with big game.